Beginning as a rock trio in 2013, Under the Puddle has grown into a five-piece act in 2016. Recently the band released their debut album "The Moody Autumn" produced & engineered by Julie Nord. The album was released on March 31st and is now available on Amazon & ITunes. Currently the music video for the single " I Go Walkin' " was released on July 15th. The band has high hopes for their debut album and its success. They have been hard at work getting the word out via performances and promotion. Under The Puddle considers themselves artists and to a degree activists and have been in recent talks with the Clean Water Foundation and is exploring how they can help the cause..
MITCH CLAUSEN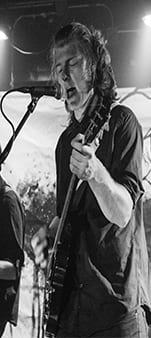 Mitchell has been playing guitar since he was fifteen years old. His inspiration and style is drawn from artists such as Jimi Hendrix, Eric Clapton, Jimmy Page and Stevie Ray Vaughn. Ever since picking up a guitar for the first time, Mitchell's goal was to be a stand out lead and rhythm guitarist. Mitchell has also always enjoyed writing, some of his favorite writers being; Ronnie Van Zant, Bob Dylan and Jack White. 
BEAU HUFFER
Beau has been playing the bass since he was 15. Considered to be a very rhythmic bass player, Beau also sings lead vocals as well as contributing back up vocals at times. He always brings positive vibes to both practice and the stage, with his energetic yet smooth technique. Beau finds most of his musical inspiration in the Hard Rock and Southern Rock genres.  
KYLE TUCKER
Kyle has been playing the drums since he was twenty years old. Kyle finds inspiration in rock from many different decades, with his favorite drummers being; Ginger Baker, John Bohnam and Dave Grohl. Kyle is the second drummer for Under the Puddle, he also sings lead vocals and backup vocals. Kyle brings a large amount energy and passion to the band, both in the studio and on the stage. 
GLEN CARNES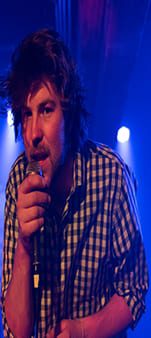 Glen is the keyboardist for Under the Puddle. He also has a natural singing voice which makes him a very versatile team player. Glen sings both lead and back up on many songs. His passion for piano started in 2012 when he first got with the band and started learning the keys. His history doing vocal work stems back further with his passion for rap with many different projects spanning over nearly ten years. Glen's contributions to Under the Puddle provide a unique, soulful sound that is key to the band.
SONNY BARTRON
Sonny is the newest member of Under the Puddle. He joined the band in 2015, but his experience dates back much further. Sonny has played for a couple different bands that played both original and cover music. He also loves playing the drums which was the first instrument he learned to play nearly thirty years ago. His skill set spans from drums to bass to guitar which makes him uniquley interchangeable through-out the band. Sonny plays both lead and rythym guitar for Under the Puddle and adds a sound that empasizes his affection for a wide range of genres, from 311 to Led Zeppelin.